Tag Archives:
Wake UP TV
Like many things that start, they also have an end. Local Celebrity LA 2010, a singing reality competition started on 1-17-2010 and ran for eights weeks ending on March 21, 2010. People arrived earlier to be on the red carpet which was close to 50 feet long.
The grand finale was held on Sunday, March 21st at the Celebrity Centre Pavilion Theater in the heart of Hollywood, which is located at 5930 Franklin Ave., Hollywood, CA 90028.
First the red carpet ran from 7pm to 8pm. Then the show started at 8pm, and it ended at 9:45pm. Later, people were invited again to take photos on the red carpet. About 200 people attended the grand finale of 2010 Local Celebrity LA, including media outlets and production staff.
" When cultural diversity meets talent, you end up having a well done competition, where skills, hard work, and creativity will have the final word.  Fascinated by the level of professionalism and dedication displayed by both organizers and contestants." said Aura Imbarus, Ph.D., author of "Out of the Transylvania Night."
The top five finalist contestants were Rosy Donovan, Shane Facchinello, Leah Turner, Leandro Fossi and Christina Aldana. The show opened with a group performance by Rosy Donovan, Leah Turner, Leandro Fossi and Christina Aldana singing "I Got a Feeling," by Black Eyed Peas.


More on Local Celebrity LA, Season 1, 2010 at Diversity News: Shane Facchinello is the winner of Local Celebrity LA 2010.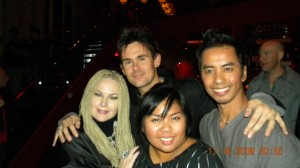 On Sunday, November 15, 2009 six contestants competed to win at Los Angeles Local Celebrity singing competion. The event was produced by California Talent agency and it was held from 8:00 pm to 11:00 pm at Eleven Restaurant & Night Club in West Hollywood, CA.
The event judges were international dance/pop recording artist, songwriter, dancer and performer, Arnold G, recording artist, songwriter and performer Fawn and singer and songwriter Kris Searle.
"I feel great, it is a great experience and it shows the local community that there is talent everywhere in this city." Said Denicar Bergancia of Long Beach, CA and the winner of LA's Local Celebrity singing competition. She concluded "I wanted to take a chance and see if I can accomplish winning the competition and see if my talent can get me further on this industry."



To read the complete story click Danicar Bergancia is the winner of Los Angeles Local Celebrity Singing Competition.