Tag Archives:
Shine On
A&G Entertainment Productions announced on Saturday, June 5, 2010 due to popular demand SHINE ON 2 Hollywood: A Music Showcase; "Artists Meet The Industry" will be held on July 15, 2010 from 5:30pm to 10:00pm at the Celebrity Center in Hollywood, CA.
Also they announced the official release of SHINE ON Hollywood: A Music Showcase; "Artists Meet The Industry" DVD available now at Http://:www.agentertainmentproductions.com
"What got accomplished through ShineOn was even more than I had originally envisioned. The result was amazing!!!!! 4 out of 10 artists are now awaiting signature by various record labels. That result alone is deeply rewarding, and has me looking optimistically towards the future, and to the encore salute of ShineOn part 2 on July 15th. AGEP will continue to focus it's effort and energy in Hollywood by creating awareness through this difference making venue. It is our intention to continue providing this incredible structure for the many artists who deserve our attention. Cheer from Hollywood!" said Arnold G, Creator, Director and Producer, ShineOn!
More on ShineOn-1 Season 1, 2010 at Examiner.com: Shine On! Hollywood: A Music Showcase;"Artists Meet The Industry" A Big Success – Los Angeles events | Examiner.com.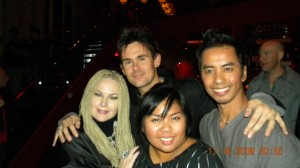 On Sunday, November 15, 2009 six contestants competed to win at Los Angeles Local Celebrity singing competion. The event was produced by California Talent agency and it was held from 8:00 pm to 11:00 pm at Eleven Restaurant & Night Club in West Hollywood, CA.
The event judges were international dance/pop recording artist, songwriter, dancer and performer, Arnold G, recording artist, songwriter and performer Fawn and singer and songwriter Kris Searle.
"I feel great, it is a great experience and it shows the local community that there is talent everywhere in this city." Said Denicar Bergancia of Long Beach, CA and the winner of LA's Local Celebrity singing competition. She concluded "I wanted to take a chance and see if I can accomplish winning the competition and see if my talent can get me further on this industry."



To read the complete story click Danicar Bergancia is the winner of Los Angeles Local Celebrity Singing Competition.